A story is told of three dreaded gangsters, Bernard Matheri Thuo alias 'Rasta', Antony Ngugi Kanagi alias Wacucu and Gerald Wambugu Munyeria alias Wanugu.
The three, are among the most wanted criminals to ever live in Kenya. News about the trio hit the airwaves during the 1990s after a wave of criminal activities that baffled even police.
The story of their heydays is that of guys who loved guns and women with excess appetite. It's said they had confessed their love for guns, women, and booze in that order.
Wacucu, Rasta, and Wanugu would later go into history as the most romantic gangsters to ever roam in Kenya. They were funny, humorous and flashy with gifts to dish out to women.
The juiciest story of these robbers is one where Rasta reportedly got creative and decided to get out of the norm of chocolates and flowers, and instead spoilt his new girlfriend with a fully loaded AK 47!
It still beats me how some women fall for crooks.
The three used to smell police traps and beat the police at their game. Their philanthropist nature made friends almost everywhere including infiltrating the police force.
They always shared their loot with either a lucky passerby who happened to be around banks they robbed or rogue police officers who would tip them of any pending raids.
Described as cunning and sharpshooters, the three reportedly forced the then President Daniel Arap Moi to call for a crisis meeting at State House.
The death of Wacucu was a big blow to Wanugu and his crime brother Rasta. Wanugu fled the city and rented a small room at a timber house at Kabatini shopping center in the outskirts of Nakuru town.
Unknown to him, police were trailing him and cornered him at the house where he was floored by a hail of bullets. But the actual account of the encounter remains mysterious; some people said it is the love for women that gave Wanugu to the police.
When he was gunned down, he was in the company of a woman, something that made it difficult to duck the bullets, they said. Rasta would later be gunned down at his home place in Nyeri as he sniffed tobacco.
The death of the three robbers was a success story for the police and officers were from then allowed to take leave.
Their story is like a movie.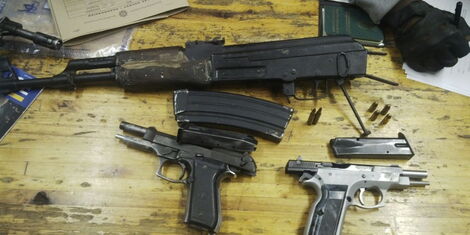 That was in the 1990s, today report to the police if your heart charmer gifts you a gun this valentine, otherwise, Hessy wa Kayole's kopa is waiting for the two of you!!