By Joyce Mukami
After fleeing persecution in Ethiopia, Mesfin Getahun arrived in Kakuma with nothing. Now he runs a business based on trust, friendship and charitable giving.
In 2001, Getahun fled neighbouring Ethiopia amidst political turmoil, settling in this sprawling camp located in arid, isolated and underdeveloped Turkana County, in north-eastern Kenya.
Nobody, including himself, would have predicted that in 16 years he would go from sweeping floors to make ends meet, to being one of the camp's premier wholesalers whose $10,000 (£7,779) monthly income has earned him the nickname "the millionaire."
But today he's troubled. His family have been selected for resettlement to the United States and is waiting for a departure date. It's an offer most refugees would only dream of receiving, but it has led to an unexpected set of challenges for Getahun, whose refugee status makes it difficult for him to collect his assets, scattered between the local bank and the camp in investments and in cash, and transfer them abroad.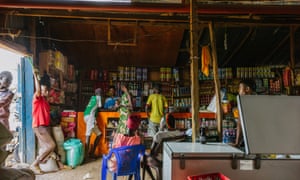 Finding someone capable of buying and taking over his operations would also take time, he explains.
A former soldier, Getahun's first job at the refugee camp was as a cleaner at a refugee-run coffee house, where he earnt 1000 Kenyan shillings (£7.50) a month.
"I just kept that money. Then I used the savings to bake bread. I brought a little bit of wheat flour, and I started selling bread." He ran his bakery business for a few years, before deciding to open a shop, selling a wider range of goods at a small profit.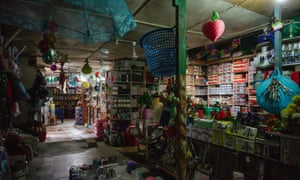 Refugee camps like Kakuma are effectively large towns with their own mini-economies. Although remote, Kakuma has a population of more than 185,000 people. Refugees here come from many backgrounds, and money circulates as they take on casual odd jobs – from construction to washing clothes – or start small businesses.
Commercial financial services tend to ignore the refugee market – despite its potential profitability.
That limits refugees' ability to safely bank the small savings they make, remittances from friends and family abroad, or to tap into business opportunities.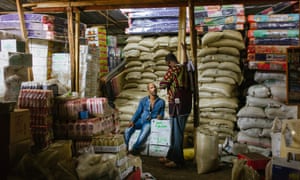 "Lack of identity documentation is often mentioned as an issue," noted Micol Pistelli, a financial inclusion expert at the UN's refugee agency, UNHCR. "However this is not specific to refugees and can be solved by adding some flexibility to the financial service providers' policy requirements."
AAHI, a regional African-led initiative, gets around this problem. But as the only NGO currently providing credit to refugees in Kakuma, it can't cope with the number of loan applications it receives – another indicator of refugees' enormous drive to get on.