By Ochieng Odhiambo
Deputy President William Ruto has found himself in a wrong place after defending Kiambu governor Ferdinard Waititu over the loss of about sh 2 billion.
The DP maintains that Waititu was being questioned over issues outside his jurisdiction.
Speaking during a ceremony to open a church hall belonging to All Saints Komothai Catholic Church in Githunguri Ruto said Waititu is being targeted for the wrong things.
He said those who faked the documents tabled before the Senate must be arrested and prosecuted.
The Kiambu government presented the Senate with a financial statement which showed it may have allocated cash for functions unrelated to the county.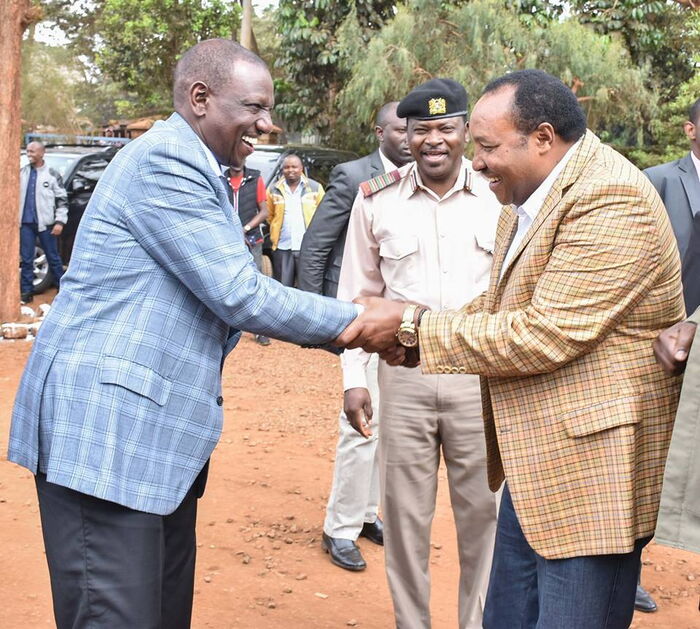 In the allocations that puzzled the Senators, Kiambu spent Sh58 million on Kenya-South Sudan Advisory Services.
"Huyu baba yao ni governor wa Kiambu….kwa budget ya Kiambu hakuna mambo ya retired president, hakuna mambo ya South Sudan, hakuna mambo ya State house…Waititu  anafaa aulizwe tu mambo ya Kiambu..hizo mambo zingine ni kazi yatu kule Nairobi," Ruto said.
This loosely translates to, "Baba yao (Waititu) is the governor of Kiambu. There are no allocations for retired presidents, South Sudan or State House in the county budget. Waititu should only be questioned on matters concerning Kiambu. All other matters are our responsibility as those in Nairobi."
Ruto said Waititu should not be asked "meaningless" questions.
"Hata nashangaa huyu baba yao atajuaje haya maneno na kazi yake ni hapa Kiambu? " he posed.
At the same time, Ruto urged his critics to stop questioning his donations to the church saying no one has a right to interrogate what he does with his money.