Governor Mike Sonko close friend and EALA MP Simon Mbugua has praised Private Sector Regulatory Authority CEO Fazul Mohammed for ensuring that private security company are on the front line ensuring that screening is Covid-19 mandatory to everyone in the premises that they are manning.
Taking to his face book page Mbugua said that security companies are taking customers temperature readings before allowing them to enter into the premises they guard.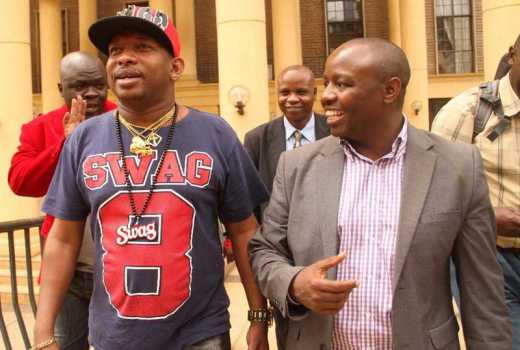 Governor Mike Sonko and MP Simon Mbugua
"If ones Temperature reading is above 38 degrees you are not allowed to enter the premises because those are Covid-19 or fever signs,"he said.
The MP further urged all Hotels, Airlines, Malls and public places follow suit to follow suit and ensure that the screening is mandotary to everyone irrespective of his status in the society.
Private Sector Regulatory Authority CEO Fazul Mohammed and Fred Matiang'i
Speaking outside Afya House on Monday, March 30, the CS health Mutahi Kagwe the current status of those with Coronavirus in the Country stands at 50.
In total, Nairobi County has 37 Kenyan cases, Kilifi has (6) and Mombasa (3) while Kajiado, Kwale and Kitui reported one each. 26 of the patients are male while 18 are female.
Earlier accompanied by Hon Jematiah Sergon,EALA MP Simon Mbugua toured Namanga OSBP to check on the level of awareness and preparedness by partner states to combat Covid-19 virus in the EAC region.
MP Simon Mbugua with his colleagues Hon Adan Noor,Hon Jematiah Sergon toured Namanga OSBP to check on the level of awareness.
"We were satisfied on the measures the Government has put in place to keep the population healthy while considering the free movement of goods and people at the OSBP," he said.
He also thanked the border management committee chaired by Custom's Sally Serem, immigration's Kenneth Goga and Port health's Lillian Ousa for their efforts and dedication towards creating a seamless system of screening goods and people to ensure our country is free from Coronavirus.