Tripple5bet has announced its latest winner of ksh 333,542 from only a stake of ksh 500 adding to the growing list of daily winners.
William Musoti, a resident of Eldoret and a regular bettor with the site was announced as a winner and he was given his cheque during a handover event presided by officials of Tripple5bet.
Addressing the media, Mr Musoti said that after trying out his luck with other bookies and failing he saw an advert of the Tripple5bet on Opera app and decide to try and placed a bet of Ksh 500.
He noted that his initial stake was small and day by day he would increase a stake to ksh 500 and he was contacted and declared as a winner.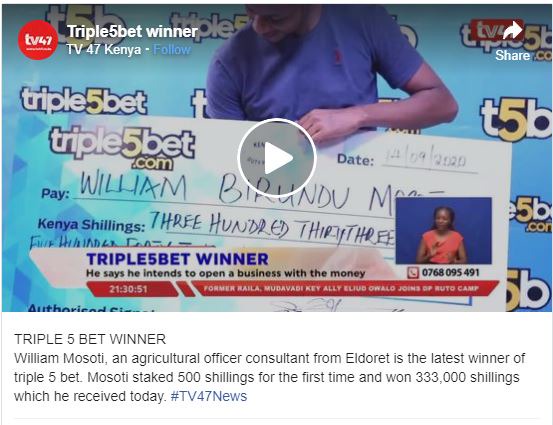 "I had tried my luck on other bookies and i would lose but after i saw the Tripple5bet advert and also visited their Facebook page, i decided to give it a try and that how i won it," he said.
Mr Musoti is an agricultural consultant and he said he is delighted and he is hopping in future he will get to the top winner so that he could expand his business.
Tripple5bet operations manager Jack Spencer congratulated Mr Musoti noting that the company will continue giving out favourable odds in the market.
He encouraged bettors to join the site noting that the company that has a deep history in the sporting arena is regulated by the lotteries and gaming regulatory board.
"We are fully regulated and our payments are instant and we will keep on improving our services to enhance the industry," he said.